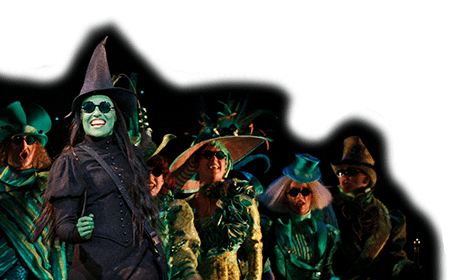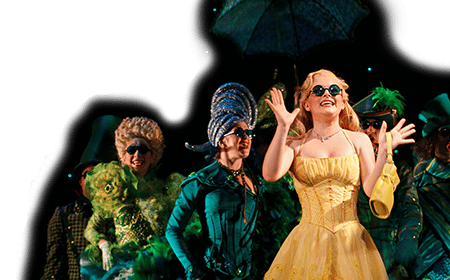 Know Before You Go
Important Pre-Show Details
The show runs 2 hours and 45 minutes, including one 15-minute intermission.
Please arrive no later than 30 minutes before the start of the performance for security; all bags are inspected upon arrival.
WICKED strives to be accessible to all; we're committed to making your theatre experience as easy and enjoyable as possible.
There are many paid parking lots and garages in and around Times Square area. ABM Parking Services, which is located directly adjacent to the theatre, offers a discounted rate for WICKED patrons. Please click here for a coupon. Note: You must have a printed coupon to receive the discounted rate. ABM cannot accept a coupon on your mobile device.
At The Gershwin Theatre
WICKED and The Gershwin Theatre are following New York State, New York City and CDC guidelines to ensure the safety of all actors, production staff, theatre employees, and audience members. As public health conditions and the State's guidance for performing arts and live entertainment changes, the theatre will remain flexible and adapt to applicable health protocols, such as face coverings, health screening, enhanced air filtration and ventilation, and rigorous cleaning and disinfection.  
To learn more about Broadway's commitment to a safe and responsible return for our audience, visit www.broadwaybrighter.com.
Luggage, shopping bags and other large packages will not be checked or allowed inside.
Photography or recording of any kind during the performance is strictly prohibited.
Children under 5 will not be permitted in the theatre; all patrons, regardless of age, need a ticket.
The Gershwin Theatre offers soft drinks, water, cocktails and candy 45 minutes before the show and during intermission. Bars are located on the front orchestra and mezzanine levels. Visit the bar before the show to pre-order your intermission drinks! Please note, outside food and beverages are not allowed.
WICKED merchandise is available in the upper lobby 45 minutes before show time, during intermission, immediately after the show or anytime online.
Audio translations are available in seven languages, for a small fee. Just go to the second-floor stand located across from the bar on the house-right side. For more info, visit http://www.soundassociates.com/products/audien/showlist.jsp.
Partners
Enjoy these exclusive services and offers from our local partners.